GET POWER AND PORTABILITY FOR THE TASK AT HAND WITH THE SURFACE GO 2

The way we work, connect and learn continues to evolve. Our devices have become our window to the world,
connecting us to our offices, our schools, and our social spaces.
To help navigate these new environments, Microsoft created Surface, a series of devices that were designed
for the future of work. Among them is the Surface Go 2, an innovative and versatile device that offers
premium design and performance, in any working environment.
Microsoft's Surface Go 2 is larger, brighter, and more brilliant. As your mobile business companion, it runs the essential business apps you rely on every day. A compact 2-in-1 that empowers employees to get the job
done with the full capability of Windows 10 Pro. From engaging customers with a tablet on the sales floor, to
checking email on a laptop in the field, the new Surface Go 2 adapts to the tasks you take on.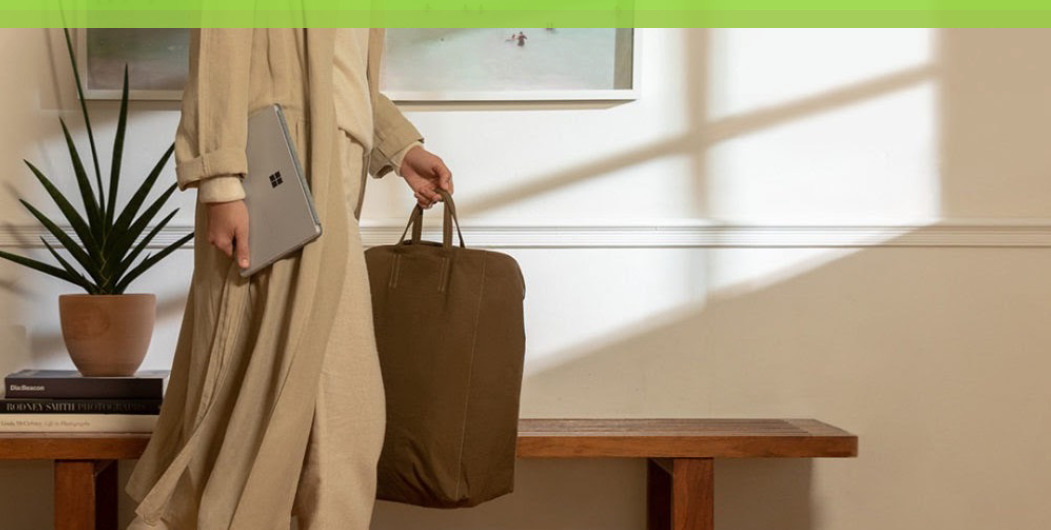 LIGHTWEIGHT AND READY TO GO WITH SURFACE GO 2
Whether you're looking for a new workhorse for school or the office, the Surface Go 2 is a portable and
powerful connection to your world. Upgraded to a bigger 10.5" touchscreen, and featuring improved
resolution and longer battery life, it was designed to keep up with you, and the demands of your workday.
The best part? You can use it as a laptop or tablet for everyday tasks.
Staying true to its hybrid tablet/laptop design, The Surface Go 2 was designed for versatility.
Weighing a mere 544g without the Type Cover, the Microsoft Surface Go 2 is incredibly mobile, whether you're working remotely or heading to class.
The Surface Go 2 gives you tablet portability and a full laptop experience with its built-in Kickstand and
Signature Type Cover, all in one compact design, helping you stay connected wherever you are.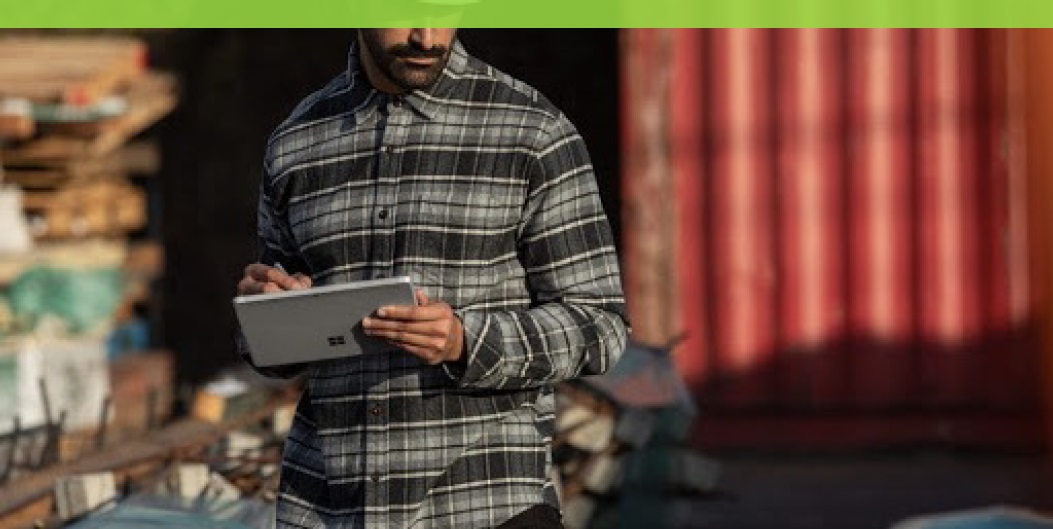 PERFORMANCE WHERE AND WHEN YOU NEED IT
With its new 8th Generation Intel Core M processor, the Surface Go 2 offers faster performance than ever
before. The improved battery life of up to 10 hours keeps you connected while you're on the go. And with
Microsoft 365, Surface Signature Type Cover and Surface Pen, you have a fully-equipped device for your
varied needs.
The Surface Go 2 unlocks the power of natural ink for things like drawing diagrams, marking documents or
working through math equations. The Surface Pen delivers a fast, accurate inking experience, and makes onscreen note-taking and sketching feel natural with virtually no lag or latency.
The high-resolution 10.5" PixelSense™ display and improved 220ppi resolution deliver a stunning touchscreen experience. The new Dolby® Audio™ offers premium sound and the enhanced dual far-field Studio Mics ensure that every Microsoft Teams call is ultra-clear.
The Surface Go 2 comes equipped with built-in WiFi, plus optional LTE Advanced, providing hassle-free,
secured connectivity wherever you go. If you need more space for photos, videos, and music, you can add up
to 1TB of storage to the built-in MicroSD card reader.
EASY INTEGRATION WITH MICROSOFT 365
Sharing a Surface Go 2 is seamless, safe, and secure, with multiple user logins via Windows Hello, managed
screen time limits, spending control and content filtering. With OneDrive cloud storage you have one place for your favourite pictures, videos and files – and it works across all your devices.
Keep your private and confidential files secured with OneDrive Personal Vault, an extra layer of protection for
documents, photos, and videos. The Surface Go 2 offers peace of mind with the Windows you know, as it
comes with Windows 10 Home in S mode, including Microsoft-verified security, Windows Defender, parental
controls, and world-class support.
Microsoft 365 provides solutions to empower users to work together more securely to improve mission
outcomes. With tools like Microsoft Teams, you can transform how you collaborate and coordinate efforts
within and across departments.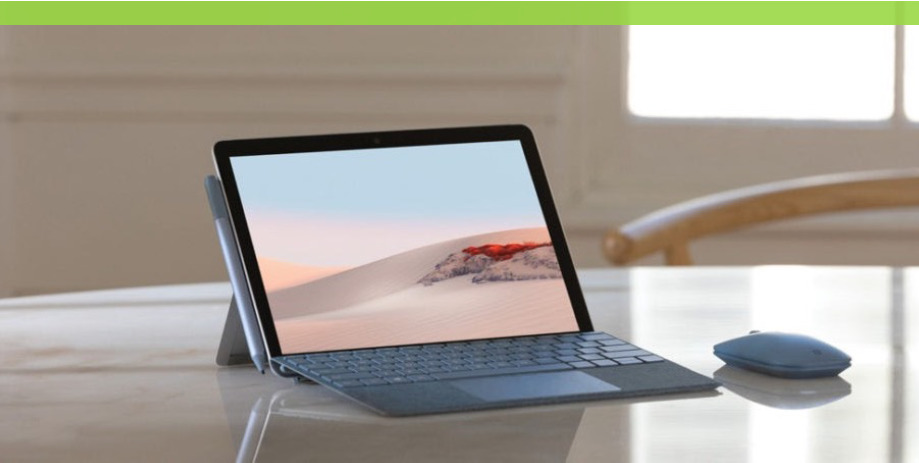 CLOUD TO CHIP PROTECTION WITH A DIFFERENCE
Finding the balance between security and productivity is a critical task within the workforce. The Surface Go 2 with Microsoft 365 provides unique protection at the front line. Proactive security measures help protect you from cyberattacks that can steal or destroy public, personnel, and mission-critical information.
At the same time, easy data-sharing and efficient communications within and across agencies keep
missions moving forward. The Surface Go 2 will keep your data secure by protecting you from theft,
malicious intent, and unsecure network connections.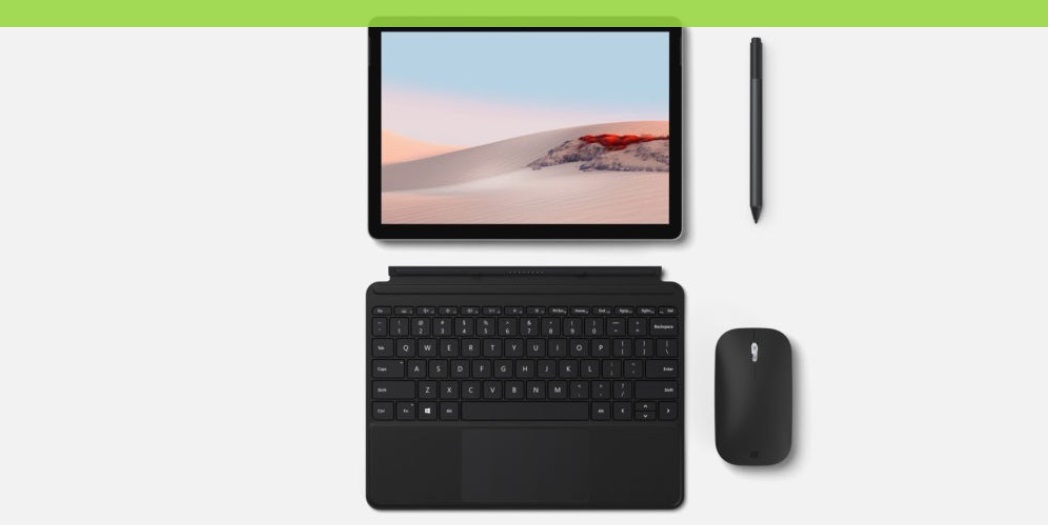 A VERSATILE DEVICE FOR THE MODERN WORKING WORLD
The Surface Go 2 empowers your employees with faster multitasking, a larger and brighter screen in the
same compact size, and eSIM to help get the job done from wherever their work takes them. Give your team
the tools they need to connect, collaborate and do their best work with Microsoft's Surface Go 2. This sleek
and versatile device is built to take on the demands of every work-day. How will you use your Surface Go 2?
A lightweight business laptop
Check email, give presentations, and type meeting notes when you pair Surface Go 2 with Surface Go
Signature Type Cover.
A compact, pen-enabled portable studio
Write and draw at a natural angle when you ink with Surface Pen.
A tablet for working anywhere
Tackle in-the-field tasks on this business tablet with built-in Wi-Fi, and optional lightning fast 4G LTE.